In this Dinopolis slot review, we will take part in a spectacular gaming experience. Yes, we have ended up in a parallel universe where most things are similar, however, there is one big difference.
It is a world where the dinosaurs are still alive in the same style as us humans. Just like you know, good minds think alike, these dinosaurs also think that a casino like Last Vegas must exist.
Well, it is the gambling paradise that we have ended up at all these amazing games, there is one that stands out from the crowd. It is the Dinopolis slot that is filled with beneficial features. To get to know more about it, let's take a look at this review!.
The Introduction: Dinopolis Slot Review
Let's begin this Dinopolis slot review from what it offers. This game from Push Gaming that works with 5 reels and 3-4-4-4-3 reel setting. You can pick between making a Minimal bet of 0.10 and a Maximum bet of 100.
There are 576 ways to win and three or more of the similar symbol type on adjacent reels beginning on the reel on the far left make a win.
The game has an RTP of 96.40% and like other slots from the most reputable developer and it has high volatility. It means that it may take longer to win, however, if you can be patient for a moment, you can get the possibility of winning up to 50,000 times from the bet.
Even though the base game is very interesting, it is within the Bonus round that the very exciting things start to happen. Seems like a bit of driving with the parking brake triggered and the discourage it into the Dino Bonus, that will throw you into an amazing fast-paced gaming experience.
The features which you can take advantage of in this game are Dino Coins, Wild Symbol, Wild Multiplier, and Dino Bonus. Moreover, when the Bonus appears, you can make decisions that can result in more Sticky Wilds and Free Spins.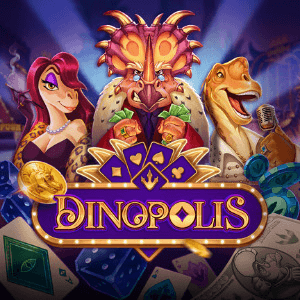 Game Design
The slot design consists of very detailed symbols, where the theme uses a fusion between dinosaurs and Las Vegas. In the base game, we see a lot of amazing buildings in the background, where a Triceratops statue holds the torch high like the Statue of Liberty.
Moreover, once you succeed in triggering the Dino Bonus, you are teleported into a casino, where there are a bunch of dinosaurs sitting and intensively playing games in the background.
Game Features
In Dinopolis slot review, players can manage to scoop up a Maximum winning of 50,000x from bet. Where it becomes possible, with the help from the features Dino Coins, Wild Symbol, Wild Multiplier, and Dino Bonus.
1. Wild Symbol
Wild symbols will help to build more winning combinations by replacing all other symbols, where the only symbol it does not replace is the Scatter symbol. This wonderful symbol can also fall with a Multiplier 2x or 3x, where in parity with how big the Multiplier feature is, the ways for the reels will increase.
2. Dino Coins
To make the spins more exciting, you can take part in a number of Dino Coins, where these have a random value of either 1x, 2x, 5x, 10x, 25x, 50x, 100x, 500x or 1000x from the chosen bet. This feature can hit on the reels 1 and 5, where you need to have at least 2 Wild symbols.
3. Dino Bonus
In Dinopolis slot review, you can spin the reels and hit 3 Scatter symbols, the Dino Bonus is triggered. Before it begins, you will first have to pick from 4 face-downed cards that provide you a different number of Free Spins.
Moreover, you may be lucky enough to get more Free Spins in the game by picking from new cards and to do so you need to level up. Like in the base game, you can take a part in Dino coins by getting at least 2 Wild symbols linked to it and when that happens, the Dino Coin will be collected to make a win.
If you hit Dino Coins with dots, these will begin to fill up a meter on the right. Once you manage to fill this meter with 5 coins, you will reach level 2 and then another 5 coins are needed to get to level 3, 4, and last level 5 that is the highest level.
Conclusion
In Dinopolis slot review, Push Gaming as the developer surprises us with a completely new type of slot.
The only thing that is generally the same in slots from Push Gaming is their high volatility, something which may deter some but which on the other hand gives the adrenaline filled gaming experience. Try your luck by playing this game at the most reputable casino 777Hoki.
Read More: Hotline 2 Slot: Free Spins, Jackpot, & Crime-Themed