The film "From Vegas to Macau" was released in 2014 and already be one of the best gambling movies in film industry. This film which tells about gambling is very suitable and entertaining for the audience. From Vegas to Macau is a film with gender crime and comedy.
Directed by Wong Jing, this film was released in Hong Kong and China in January 2014. It is not surprising that this film received a lot of good responses. Apart from the famous director, the producer of this film is Andrew Lau.
The film also has a sequel. With the same title, From Vegas to Macau II was released in 2015. Meanwhile, the third sequel was released in 2016. The advantages of these two films are enormous because they have audiences that are spread all over the world.
From Vegas to Macau in the Casino Gambling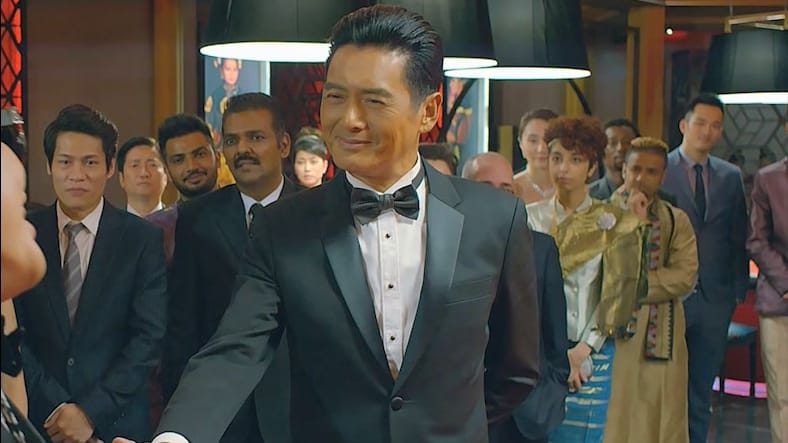 This film tells about the world's super hacker named Show Hand. This character is played by Nicholas Tse. Meanwhile, the main character who also plays with Show Hand is Karl (played by Chapma To).
They're both going to Las Vegas. The goal is to meet an old friend, namely Benz. After arriving in Las Vegas, the two meet the famous gambling god, Ko Chun or Hendrick. This character is played by Chow Yun Fat.
At that time, Ko Chun was in charge of being a casino security consultant in Las Vegas. So that his previous job as a gambling player switched. The three of them then met with Mr. Ko. Mr. Ko is a corruption fugitive. In fact he is an Interpol fugitive.
In his role, Show Hand is a former cop. Then he got an assignment from Interpol to investigate Mr. Ko. This message was conveyed by an Interpol member, Ken, who is also a friend of Show Hand. Show Hand then infiltrated it to dig up information.
The conflict gets hotter when the information is misdirected. Information that should be a tool to catch Mr. Ko actually fell into the hands of Ko Chun's son, Charlie. Of course this becomes dangerous because it becomes a threat to Charlie. He was then chased by Mr.'s men. Ko.
Because Charlie's condition was threatened, Ko Chun finally got involved in handling this case. So that Show Hand, assisted by Ko Chun, worked together in arresting Mr. Ko.
Sequel From Vegas to Macau II, The Gambling Story Still Continues
In the sequel to the film, Mr. Ko is killed on his way to court because he is murdered. This murder is suspected of being an act of silencing the money laundering case. Several new characters appear in this sequel.
One of them is Mark, played by Nick Cheung. Mark is the brother of Mr. Ko and an IT expert. He is suspected of being the figure behind Mr.'s death. Ko this. Cool, played by Shawn Yue, who is also Benz's foster child, was appointed a member of the investigation.
Read also: Tazza One Eyed Jack, Korean Gambling Sequel from Comics
Cool was chosen to be a special investigation agent to reveal this case. His trip was not only in Las Vegas and Macau. The place setting then moved to Thailand as Mark's fugitive location.
In this sequel there are lots of conflicts and a tense plot twist appears. So those of you who have watched the first series will definitely be very challenged to continue in the second sequel.
In the third sequel, From Vegas to Macau also has a more exciting and tense conflict. So for those who want to watch, it is recommended to start from the first sequel.
Production From Vegas to Macau with Casino Gambling Nuance
The film From Vegas to Macau is certainly synonymous with casinos and gambling. One of the characters in this film acts as a gambling expert. So do not be surprised when casinos become a sight that often appears in them.
From Vegas to Macau is produced by Mega-Vision Pictures. In addition, it also involves Bona Film Group, Television Broadcasts Limited, Golden Pictures Entertainment and Sun Entertainment Culture.
This 93-minute film will take the audience into a new imagination about the two biggest gambling cities in the world. Although the story is not about gambling, the setting and storyline are not far from the casino world.
His profit at the box office in the first sequel touched 95.0 million US dollars. In the second sequel, this gambling film made a profit of 156.85 million US dollars. For the third sequel to reach 166 million US dollars. This film has been widely watched all over the world, so it's no surprise that its profits have reached that figure.
The actor in this gambling film is an artist whose quality is undoubtedly. A classmate of Chow Yun Fat, an artist from Hong Kong who has a lot of experience in the film world is the main character. In addition, figures such as Nicholas Tse, Jiang Tian, Chapman To also color this tense film.
This film is very suitable for you to watch action film lovers with comedy in it. Have a good time watching!
Read also: Gambling Movie 21: The Dynamics of Gambling Mathematics Expert Students