Director Aaron Sorkin's film Molly's Game has an absolutely amazing story. Based on the non-fiction book by Molly Bloom, this film has many fans and become one of the best gambling movies in its industry. This film, which tells about the life of the bookies, will open up new perspectives.
This quite entertaining drama is handled well by Aaron Sorkin. This director who specializes in biographical films is able to make Molly's Game not boring.
Molly's perseverance as a Gambling City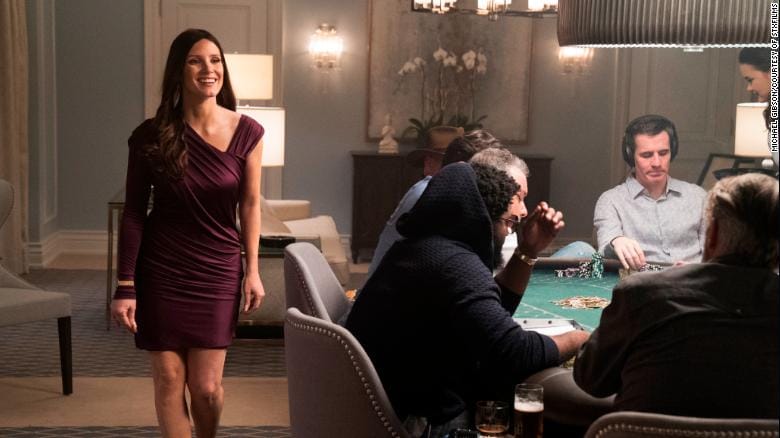 This film tells the story of Molly Bloom, a female bookie played by Jessica Chastain. Molly's character is an ambitious warrior. At first, Molly was a ski athlete.
He struggled and always practiced to be able to win in the Olympics. However, good fortune was not on his side. His dreams were shattered as an international ski athlete. However, he then went to Los Angeles.
There, Molly became interested in the gambling business. At first he lived as a waiter in a club. With persistence and determination, Molly later learned to build her business. Even though he only started as a waiter at the club, he is very skilled in dealing with the various characters of guests who come.
Thanks to his skills in serving visitors, Dean Keith (played by Jeremy Strong), a club visitor is attracted to him. He is a businessman in the real estate developer field. Apart from that, he has another business namely underground poker gambling.
Dean invites Molly to work together. At the start of the cooperative relationship, Molly was given the position of secretary. Thanks to his tenacity, Dean then gave Molly the confidence to run his poker business.
As well as being tenacious and hardworking, Molly is a very adaptable character. Although at first he could not and did not know poker, he continued to learn. From this business he later learned thanks to Dean.
What Molly learned was the tricks poker players used. From the chats that poker players usually talk about, he knows how the poker players move. Within a short period of time, he became a person who understood professional poker techniques.
While Molly was enjoying her time in the poker business, Dean fired Molly. Molly was not discouraged, thanks to her intelligence she was able to take over Dean's poker game. After that, he became a respected and successful poker bookie.
The storyline of the gambling dealer back and forth in the film Molly's Game
Aaron Sorkin is a director who is beyond doubt. He is characterized by the random nature of the story line. Usually he carried the story forward and backward. So that the film Molly's Game that he worked on became not boring.
Read also: Runner Runner Film, Story About FBI Fugitive And Gambling
Several flashback scenes are immediately presented in the opening. Like the story of Molly who was consulting with her lawyer, Charlie Jaffey (played by Idris Elba). Even though it began with a flashback scene , Sorkin's story was brought out well.
Although the film Molly's Game has elements of drama and biography, it is quite suspenseful in the similar film category. With a duration of 140 minutes, Sorkin makes this film straightforward. One key is to tell it non-linearly.
The non-linear thing that is meant here is of course the flashback element . Almost half of this film uses a back and forth plot. Even so, the story that was delivered was still easily understood by the audience.
This back and forth plot carries 2 story lines. The latest world of gambling and bookies as well as drama between characters (lawyers and clients) with long and sequential dialogue. Aaron Sorkin's trademark is to spice up his film with a long line of conversations but look heavy.
Even apart from the backward plot at the beginning of the story, Sorkin provides Molly's lengthy monologue as the opening act. This monologue even takes a few minutes but is able to sedate the audience. Wow, this characteristic of Sorkin is quite interesting.
Aaron Sorkin, Best Film Director for Molly's Game Gambling Story
The choice of Aaron Sorkin as director in Molly's Game is certainly not a wrong decision. This choice is very correct and correct. Sorkin's extraordinary reputation makes Molly's Game perform satisfactorily.
Aaron Sorkin's career in the entertainment sector is quite amazing. He is known as the most famous film and theater screenwriter. Some of the works that were adapted into films are The Farnsworth Invention and A Few Good Men.
Meanwhile, in the realm of television, Sorkin is also the most famous figure. Several well-known titles are his works, such as the series The West Wing, Sport Night, Studio 60 on the Sunset Strip, and The Newsroom.
Even his work entitled The Social Network won an award as the best adaptation scenario in the Oscar trophy. In 2016, he won the Golden Globe award for best screenplay for the film Steve Jobs.
After this very satisfying journey, Sorkin made his debut as a film director. Molly's Game is the first film he has directed. Despite this, he still delivers outstanding work in this film.
Wow, isn't it very interesting, interested in watching it?
Read also: The Mississippi Grind Movie: The Gambling Player's Bankruptcy